Long-term care workers in Mississauga say they're being denied proper PPE
---
Ontario sees 5,839 new cases of COVID-19 and 95 deaths over 2 days
---
CUPE hopes to see more support for education workers
---
Study shows pandemic has nurses, PSWs suffering high COVID infection rate, job stress
---

Premier Doug Ford and the and the Ministry of Health have announced plans to cut over $200 million in funding to Public Health Units across Ontario and over a billion dollars in coming years.
They've also announced that they will be cutting the number of health units from 35 to 10 and changing the funding structures so that municipalities carry a larger burden of funding public health.
These huge cuts will negatively impact communities small and large across Ontario. Programs like immunization clinics, infectious disease outbreak management, low-income dental clinics, student nutrition, well-baby assistance, water safety monitoring, inspections of local food premises, long-term care facilities and more are all at risk.
Sign the petition to tell your MPP that public health services keep us from getting sick and keep us out of hospitals. Public health services save lives.
---
Deadline for CUPE Ontario award nominations – April 30
---
PCs super agency super bad for patients
PC's radical health system restructuring
---
Tell Your MPP: Don't Privatize our Health Care System
Dear MPP,
I am very concerned that the Ontario provincial government is considering unprecedented changes to our health care system that I do not support.
These changes, it appears, will not only permit, but possibly encourage, more private delivery of health services and give sweeping powers to restructure our community hospitals, long-term care homes and home and community care my family and I rely on. More services will move out of smaller communities. Patients will suffer as gaps in care multiply.
I very much value our public health system and I'm asking you to join me in protecting it. This is why I'm calling on you to oppose this restructuring, which has been planned behind closed doors and with no consultation with Ontarians like me.
---
OMERS just had another high performing year.
• Investment returns of a net 11.5 per cent – almost double required discount rate of 6.2 per cent and well above the strategic rate.
• 2017 earnings of $9.9 billion were used to both lower next year's discount rate and increase the plan fund.
• The plan holds more than $95 billion in assets
Yet some at the Sponsors Corporation want to get rid of key benefits like guaranteed indexing. We can't let that happen.
Let OMERS know we must keep key benefits like guaranteed indexing so we can keep up with cost-of-living increases and live with dignity after we retire.
---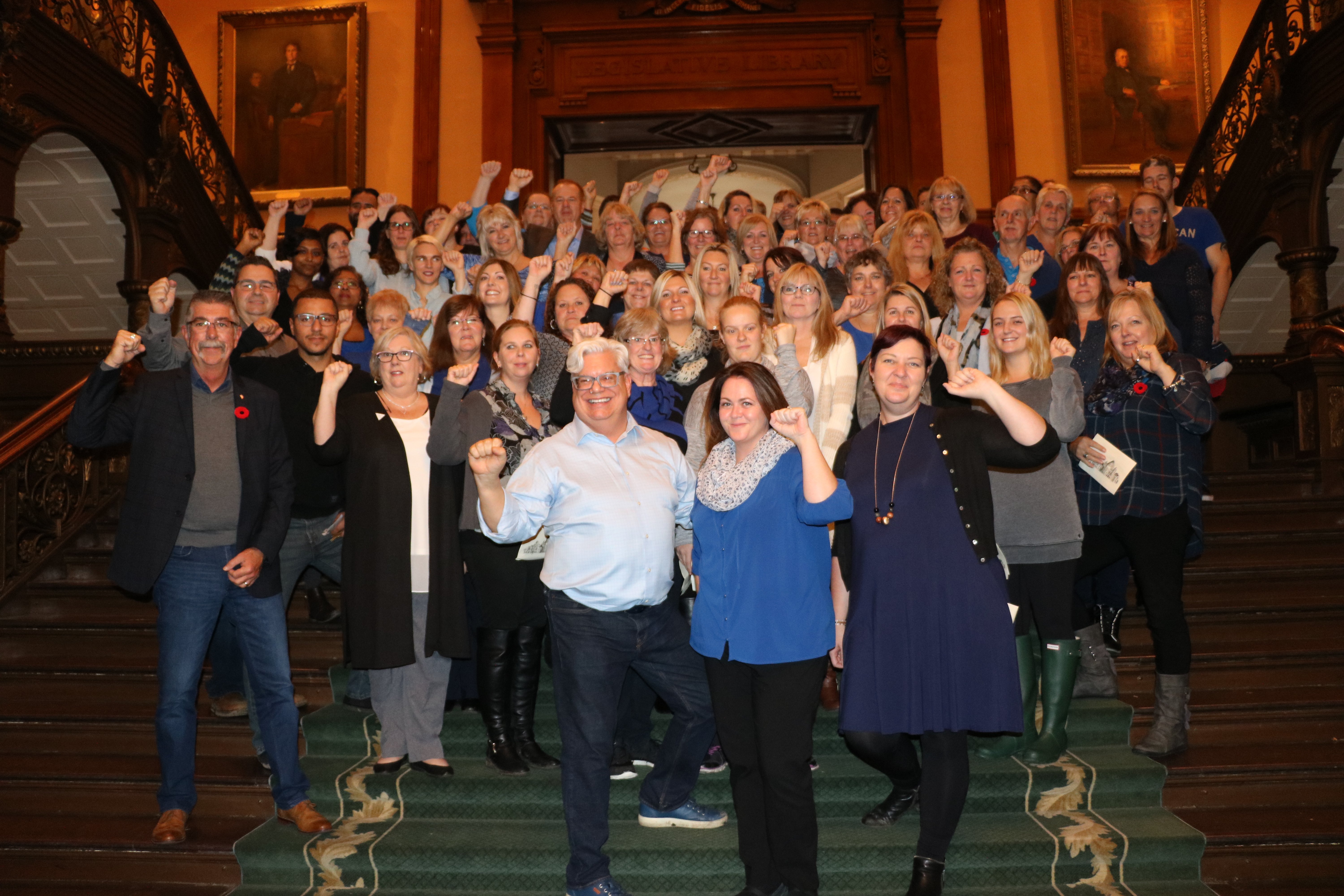 Major victory for Ontario seniors: All party support for Bill 33 makes minimum care standards for seniors in long-term care closer to reality
Bill 33, the Time to Care Act, passed second reading thanks to all party support for NDP Health Critic France Gélinas' private members bill that would legislate a minimum care standard of four hours a day in Ontario's long-term care homes.
"The care and wellbeing of our seniors should never be a partisan issue and we are so pleased that members of all three parties came together to pass this critical legislation at second reading," said Candace Rennick, Secretary Treasurer of CUPE Ontario and a former long-term care worker who has been working with Gélinas to bring the Time to Care Act forward.
Currently, the only legal guarantees for seniors living in long-term care are an on-call nurse 24 hours-a-day, and two baths a week. Canada has the lowest care levels among countries with equivalent economies, and Ontario has the lowest in Canada.
---
On Monday, September 4, CUPE Ontario members will take part in Labour Day events in communities across the province.
The annual celebration has its roots in the labour movement's fight for an eight-hour day and celebrates the many gains unions have struggled for on behalf of all workers, including health and safety regulations, parental leave, better wages, pay equity laws and same-sex spousal benefits.
This year we will be putting our focus on Bill 148 and the need for real changes to the Labour Relations Act, including union card check certification for all, anti-scab provisions, and first contract arbitration. Along with these issues we will be highlighting the fight for $15 and fairness.
Come out and join your fellow unionists at the Labour Day event in your area.
---
Listen to the people on Bill 148, urges CUPE Ontario
- Union supports NDP amendments to Bill 138 -
TORONTO, ONTARIO--(Marketwired - Aug. 10, 2017) - CUPE Ontario has thrown its wholehearted support behind Ontario New Democrats' amendments to Bill 148, the proposed legislation that would raise the province's minimum wage and make substantial changes to both its Employment Standards Act (ESA) and the Labour Relations Act.
At a news conference at Queen's Park today (Thursday), Ontario NDP leader Andrea Horwath outlined the key amendments her party will put forward on Bill 148, Fair Workplaces, Better Jobs Act 2017. The legislature's Standing Committee will consider the NDP amendments beginning the week of August 21 as part of its clause-by-clause analysis of the Bill.
The NDP amendments, as backed by CUPE Ontario, would make it easier for all workers - not just some - to join a union; protect all workers - not just some - from contract flipping; and make clear the direction of these changes: to reverse the dangerous and increasingly precarious nature of work in Ontario.
---
Have Your Say on Bill 148
Who: CUPE Ontario Members
What: Fact Sheet & Public Consultations on Bill 148
Where: Locations across Ontario
When: July 10 - July 21
Bill 148 - Changes to Ontario's
Employment and Labour Laws
On June 1, the Ontario government introduced Bill 148: Fair Workplaces, Better Jobs Act 2017.
These changes are the culmination of years of mobilizing and lobbying among union members, worker advocates, anti-poverty activists, faith leaders and many more.
---